(Stolen without shame from some random tumblr.)
Even if you're not an MH fan, please do me a favor and scroll down to question
#16
and see just how
OUT-OF-CONTROL
this obsession has gotten ;)
1. Your favorite MH character:
Ghoulia. I think she's adorable (both in looks and personality) and I love how smart & resourceful she is.
2. MH character you feel you are most like.
Operetta, I guess…I love music & like hanging out by myself (though not in dungeons/catacombs like she does lol).
3. Favorite MH girl.
Since I'm assuming I'm supposed to give a different answer than I did for
#1
, I'll say Frankie. I love the design of her dolls & she's super-sweet and adorably naive in the webisodes.
4. Favorite MH boy.
Deuce! He's so cool with his glasses & snakehawk.
5. Favorite MH doll collection.
I'm going to assume that 'collection' means 'line' here. Scary Tales, hands down. I'm a sucker for anything fairy tale related, and the dolls in this line look more 'high end' than the others. I wish they'd add more to it than just Clawdeen Wolf/Little Dead Riding Hood, Draculaura/Snow Bite and Frankie Stein/Threaderella. In the diaries, Abbey is the fairy godmother, Cleo is the evil witch and Holt is Threaderella's prince so they could make dolls of them. How about Lagoona as the Little Mermaid? One of the other girls could be Sleeping Beauty.
6. Recommend a MH website or blog.
mhinsider.tumblr
&
monster_high
. That tumblr has a very complete checklist of all the dolls, their release dates, etc. The other is good for news, discussion, etc, but the bitchiness does run rampant & NOTHING makes them happy. (Don't know why I'm recommending it, honestly lol.)
7. Come up with a MH OC: Name, child of, and personality.
I'm not good at this. IDK a mermaid would be cool, but how would they swing that? An old-school, green-skinned witch would be cool. They could do an elf…or a fairy…or the kid of the Loch Ness monster. BETTER YET: how about they just make dolls of InvisiBilly & Grimmily Anne McShmeddlebopper instead? They've both appeared (very briefly on Billy's part) in webisodes & there's concept art for both. Mattel even did a mock-up box for Billy for April Fool's Day (an invisible doll in the box, geddit??) but they could totally do his limbs like they did Spectra's (they fade to clear plastic at her hands & feet).
Grimmily Anne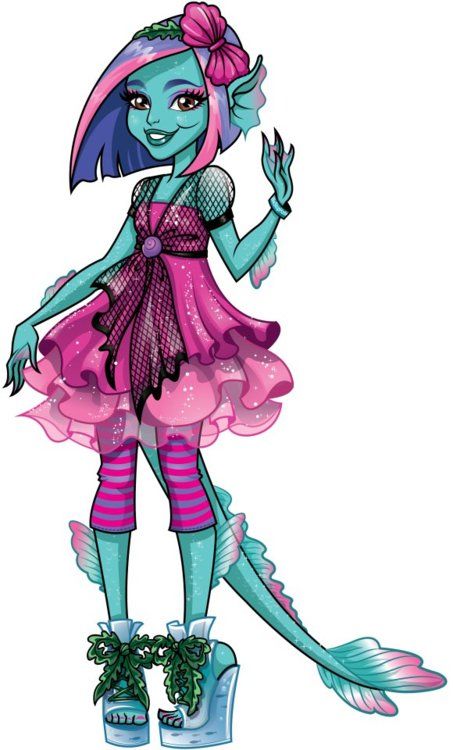 InvisiBilly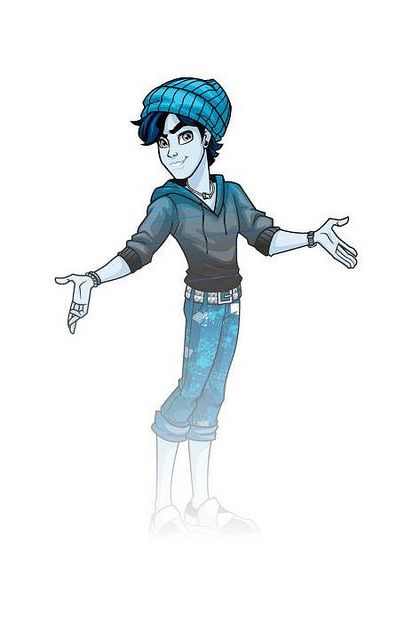 8. How big is your MH collection?
I have 80 dolls. Whoa.
9. How long have you been a fan of MH?
I think since Halloween of 2010, but I didn't start collecting the dolls until a year later.
10. Favorite MH episode/webisode/special?
The one where Cleo sends all 10,000 of her servents to Dead-Con to enter the giveaway of the special issue of the Dead Fast comic so they can win it for Ghoulia. Then she gives it to Ghoulia (who cries because she's so happy) and we find out that Cleo really does have a heart and cares for Ghoulia and appreciates everything she does for her. Plus, there's a pretty awesome dream sequence where Ghoulia imagines herself as Dead Fast.
11. Most wanted MH doll.
Jinafire Long from the Scaris: City of Fright line. Can't wait until she's released!
'
12. Least favorite MH character.
Gil Webbington. He's a weak, paranoid drip. And both the cartoon version and the doll are fugly.
13. How did you become a MH fan?
Watched the Halloween special, thought it was cute...saw the dolls & thought they were cute & the more I saw them, the cuter they got.
14. Which MH character do you think you'd click with?
Lagoona. She's so sweet and friendly and outgoing, she's friends with everyone.
15. Are you out of the MH closet? (Do your friends and family know about your obsession?)
Yeah. I don't give a fuck who knows or what they think about it.
16. Show a picture of your MH collection.

There are 34 dolls jammed on this shelf. I haven't had a chance to go to Lowes & get another organizer shelf like in the first pic.



Chillin' with Draco, Dobby & the Trio lol.

17. Favorite MH outfit on a doll.
TIE: I *love* Dot Dead Gorgeous Operetta's dress. It's 1950's sock hop style. So cute!
And Ghouls Rule Abbey's dress. I bought GR Abbey with the intent of selling her but I fell in love with her dress & that's the main reason I kept her. You can't tell from the photo, but her skirt is made of multiple layers of fabrics with very intricate textures & patterns.
18. Other hobbies/interests besides MH?
reading, watching movies, swimming, hockey
19. Is there a MH doll you just can't seem to get your hands on?
Just Wave 2/School's Out Lagoona Blue, but she's being rereleased this fall :D
20. Thoughts on MH scalpers.
I don't know that I've ever encountered scalpers. I just don't think the stores around here stock very well. I do get a laugh when some scalper is trying to sell the latest release on eBay for $4,999.99. Seriously, one listed Venus McFlytrap (I think it was her anyway...I know it was a recent release of a non-exclusive doll) for that price when she was first released. Now 2 months later, you can find her pretty easily (in my area anyway) for $24.
21. Have you read the MH books?
Yes. They're horrible. Vapid, insipid, make
Twilight
look like The Greatest Novel Ever. They're also horribly written, I've read stories by 3rd graders with better plot, dialogue & character development. The characters are so shallow & unlikable. If I'd read the books first, I would've NEVER started collecting the dolls.
22. Weirdest place you have ever seen MH merchandise.
Love's Truck Stop.
23. MH Dolls: Boxed or unboxed?
Unboxed!!!
24. Have any rare or limited edition MH dolls?
Dawn of the Dance Deuce, Basic Ghoulia & Basic Lagoona are all considered pretty rare and go for high prices on Amazon & eBay, but I lucked into finding a NIB Ghoulia for regular price and got the other two unboxed but in excellent condition online from other collectors for their suggested retail price.
25. Which MH character is most like their doll, in your opinion? (appearance-wise)… Most unlike? Show photo evidence!
Most: Frankie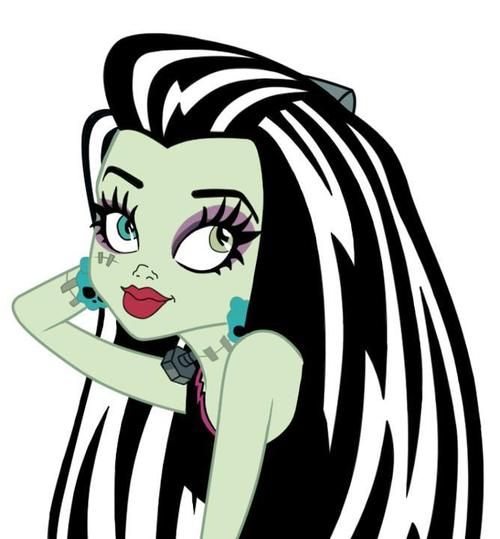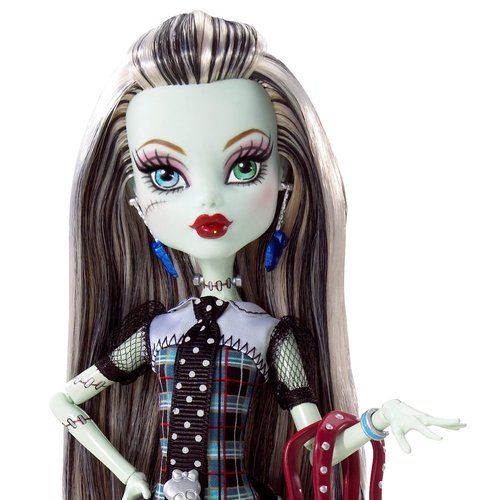 Most unlike: Spectra (her features are quite angular on the doll & her hair is very straight, whereas she has a softer appearance with wavy hair in the webisodes)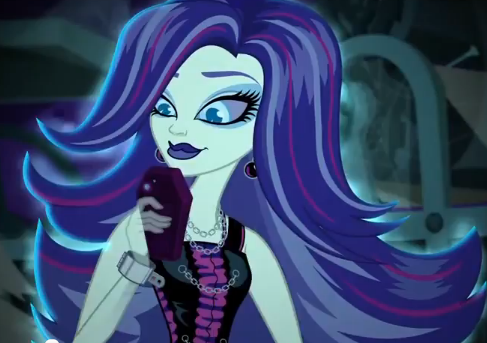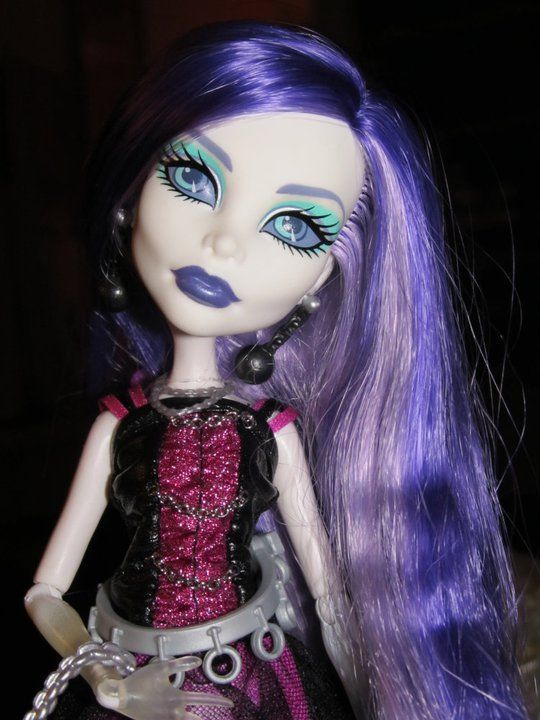 26. Most embarrassing MH-related moment. (Come on, we've all had one.)
We have? I haven't. I'm not embarrassed about collecting them so I could give a flying fuck what some checkout person thinks about the fact that I'm buying 6 dolls at once.
27. New MH release you're most looking forward to.
The Scaris: City of Fright line & the upcoming Dance Class line :)
28. Have you done MH cosplay? Would you? If so, which character(s)?
LOL no I don't do cosplay. I wouldn't be opposed to dressing up like one of the girls for Halloween, if I had a reason to dress up.
29. Do you have any custom MH dolls?
NO, AND I NEVER WOULD. I haaaaaaaaaaaate customs, you have no idea how much. I've never seen one that I
didn't
think was fugly. And I don't get the point of customizations. If you don't like the dolls as-is & think you can come up with better designs, they why bother collecting them in the first place? Furthermore, if you want to make up your own MH designs, why in the everloving fuck would you spend $14-$25 for a doll you're going to destroy when you can buy Liv dolls at Walmart for $5?!?
Favorite & least favorite MH doll in your collection?
Favorite: Little Dead Riding Hood Clawdeen (she's sooooo gorgeous, from her red-streaked hair to her cute little outfit to her super-chic boots)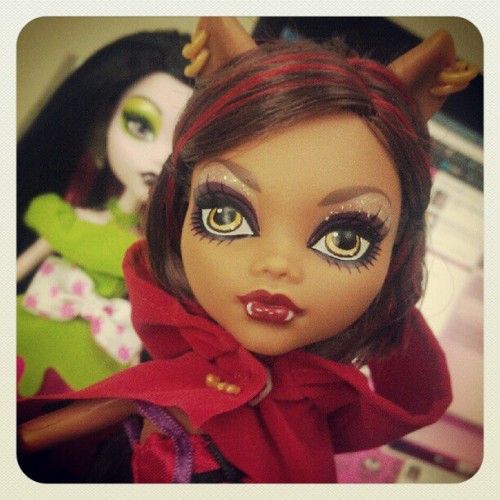 Least Favorite: Jackson Jekyll (his mullet is HIDEOUS)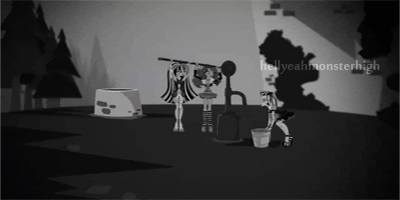 I know there are only 2 or 3 Monster High fans on my flist but I'm doing this meme anyway.