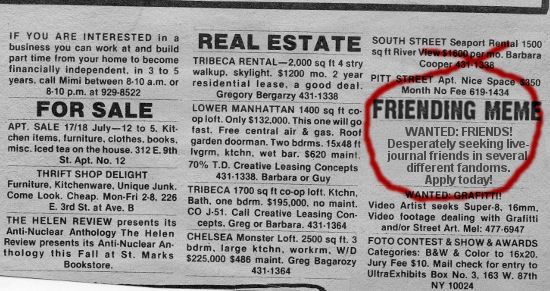 Ready to make some new friends?

Yes?

Good!

Cause it's time for a Friend-of-a-friend-of-a-friend friending meme.
THE ~RULES:
1. Fill out the questionnaire below & post it in comments.

2. Look through the other comments to find cool people with similar interests.
(Be sure to check back every once in awhile as new people answer the questions.)

3. Friend anyone you think would be a great addition to your friends list!
The questions...
OH! And don't forget to
PIMP THIS MEME ON YOUR OWN LJ!
Please consider pimping the meme on your LJ even if you don't want to fill it out yourself.
If even a few of you can get some of your friends to come over & answer the questions, it will make this friending meme a smashing success.
Hope everyone makes some awesome new friends!
location:

Cubicle Hell

mood:

hopeful

tunes:

Like a Virgin---Madonna (REALLY?!?)