1. How old were you when you got your first library card?
I was 9. The place I lived before that didn't have a library, we had to get all our books @ school.
2. What's the first book you can remember reading from a library?
Probably something by Beverly Cleary. I was/am a huge fan. For some reason, I'm thinking it was
Ellen Tebbits
. I remember the cover: not the cutesy cartoon covers they have now, but the old school covers with art by Louis Darling.
I googled. This was the cover:
I always loved the cover of Cleary's books because of the art. I probably have a stack of them stashed somewhere @ my mom's house.
3. Did you ever participate in a summer reading program or other kids' event at a library growing up?
No, our library didn't start kids' programs until I was too old for them.
4. Do you remember when card catalogues weren't computerized?
Heck yes!
5. When was the last time you went to the library?
Over a year ago. I've bought so many books & they're just sitting there in a pile, waiting on me. It'd be silly to go to the library @ this point in time.
6. How many books do you usually check out of the library at one time?
Three. Our library has a ~strict rule~ that you're only allowed 3 @ a time.
7. Name one great author you've discovered at your library.
I don't know that I've ever discovered an author @ the library. I've usually heard of the books/authors beforehand & go there with certain books in mind that I'd like to check out.
8. What was the librarian at your elementary school like?
OMG she was a horror!!! Her name was Vera Dalton, she was British, really old, cranky, and smelled like the floor of a bar. If you didn't pick out a book within the first 10-15 minutes of library time, she'd pick one out for you. In the third grade, our reading class did a play & I had to play her. It involved throwing a shoe at a boy's head. Very fitting...
9. How many times a year do you go to the library?
Now, maybe once a year, if I need to look up something in the newspaper archives. When I don't have stacks of my own books to read, I go every other week.
10. If you could change on thing about your library, what would it be and why?
I live in a really small town, so there's not much of a budget. And the books they spend their money on…don't get me started. Lots of serial Westerns, Christian fiction & books usually classified as "beach reads" or "guilty pleasures". They're heavy on the Jackie Collins, but I once couldn't find an Edith Wharton book in the whole damn place! (They told me that the "older books" are taken out of circulation & stored in the basement because "no one reads the old ones anymore". Well, DUH, how can they when they're in the basement?!? And it's not like they're hurting for space or anything.)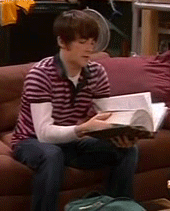 Why, yes, I can find any excuse to use a Drake gif lololol.
So, flist, what books did you like as a kid? Any traumatic stories about reading Are You There God, It's Me Margaret in the 2nd grade & being SCARRED FOR LIFE? Just me then.???? Carry on…
location:

Cubicle Hell

mood:

blank

tunes:

Bring Em Out---Hawk Nelson featuring Drake Bell