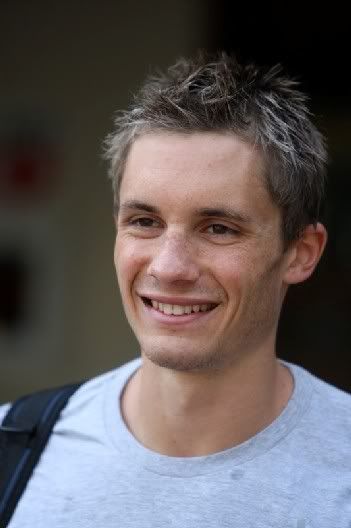 Shanteau continues to inspire
By David Briggs
Eric Shanteau figured his Olympic dream was over — for 2008 and maybe for good after finding out he had testicular cancer.
"You think of the worst," Shanteau said. "You think of terminal illness, people being very sick on your deathbed."
Six months later, the 25-year-old swimmer said he's never felt better.
Shanteau is back in the pool, and was nearly back to form in winning the 100- and 200-meter breaststroke at this weekend's Missouri Grand Prix.
"Put me in a suit, and I'll go for a world record," he said, laughing.
So continues a tale that inspired millions at the Olympics. Shanteau gladly recounts it as a motivational speaker. He's healthy and embraces his role as a cancer awareness advocate.
"The things you used to get upset about, whether it's sitting in traffic or little fights with family and friends, they kind of slide off your back now," Shanteau said. "It's a really just a more relaxed way of thinking and looking at life."
The life-changing shift came in June as Shanteau prepared for the Olympic Trials.
Shanteau liked his odds of making the U.S. team. An 11-time All-American at Auburn, he just missed a trip to the 2004 Games and finished the 2007 season ranked fourth in the world in the 200 breast.
But midway through the month, Shanteau noticed a BB-sized lump on a testicle. A trip to the doctor and a few tests soon revealed the cancer, less than two weeks before the biggest meet of his life.
"Having that bomb kind of dropped on you was pretty hard," Shanteau said.
The cancer was caught early — the Stage 1 survival rate is better than 95 percent — but the Olympics were out of the picture. Doctors told him surgery could be delayed until after the Trials, not a couple of months.
Facing an uncertain future, Shanteau continued his training. And at the Olympic Trials, he swam a personal-best time of 2 minutes, 10.24 seconds in the 200 breast. He was on the team — on paper.
Then as Shanteau struggled with the thought of not heading to Beijing, he soon learned there might still be a chance. Tests showed his cancer was not growing, and if it remained that way, surgery could be postponed.
Shanteau, knowing he might never get another Olympic shot, embraced the doctors' opening. If the cancer began to grow, Shanteau would withdraw from the team.
In Beijing, Shanteau's story made him an unwitting media star — he appeared on "The Today Show," holding aloft a shirt that read "Cancer Sucks." And the disease never left his mind.
"But it was amazing how well he kept his composure," said Ryan Gangloff, Shanteau's former teammate at Auburn. "It showed me how tough he was."
Shanteau was ready when the 200 breast came. He finished 10th with a career race (2:10.10), setting off another wave of supportive letters and calls — Lance Armstrong kept in frequent touch — from fellow cancer survivors around the world.
"That was inspiring to me," Shanteau said.
So after undergoing surgery back home, Shanteau decided to return the favor.
"There's definitely a little responsibility," he said. "You don't necessarily ask for it, but am I more than willing to accept it and take it on? Absolutely."
Shanteau has been on the speaking circuit ever since — "crazy busy," he said — and, oh yeah, he returned to the pool. Five weeks after surgery, Shanteau was back in training. For fun.
"That," he said, pointing to the pool at the Mizzou Aquatics Center, "got put into perspective real quick. … I'm still training the way I always have, but I've kind of taken the edge off of it."
Shanteau will need a blood test every two months and a CAT scan every four months for the next year. But for now, he is cancer-free and thankful he's here to keep spreading word about cancer awareness.
Next, he plans to team with Armstrong's "Livestrong" organization.
"What better person to have in your corner than that guy," Shanteau said. "If I can have just a fraction of the impact he's had, not only in the sporting world but on the cancer community, then that would be a pretty successful career."
SOURCE
I'm so happy he's healthy & able to compete again. I can't wait to see him swim at the World Championship Trials in Indy this July. Seeing him on the medal podium at Worlds would be beyond awesome.
location:

Work

mood:

cheerful

tunes:

Dig--Incubus