We're in the home stretch now!
Day 01 - The best movie you saw during the last year
Day 02 - The most underrated movie
Day 03 - Favorite love story in a movie
Day 04 - The most surprising plot twist or ending
Day 05 - A movie that makes you really happy
Day 06 - A movie that makes you sad
Day 07 - Favorite made for TV movie
Day 08 - A movie that you've seen countless times
Day 09 - A movie with the best soundtrack
Day 10 - Favorite classic movie
Day 11 - A movie that you hate
Day 12 - A movie that changed your opinion about something
Day 13 - A character who you can relate to the most
Day 14 - A movie that no one would expect you to love
Day 15 - A movie that is a guilty pleasure
Day 16 - Favorite movie based on a book/comic/etc
Day 17 - A movie that disappointed you the most
Day 18 - Favorite movie from your favorite actor/actress
Day 19 - A movie that you used to love but now hate
Day 20 - Favorite action movie
Day 21 - A movie that you wish more people would've seen
Day 22 - Favorite documentary
Day 23 - Favorite animation
Day 24 - That one awesome movie idea that still hasn't been done yet
Day 25 - The most hilarious movie you've ever seen
Day 26 - A movie that you love but everyone else hates
Day 27 - A movie that you wish you had seen in theaters
My favorite director is Tim Burton & technically my favorite film by him is
Edward Scissorhands
, but I've already used that movie for another day & I don't want to do a repeat. So, I'm going with my 2nd favorite Burton movie: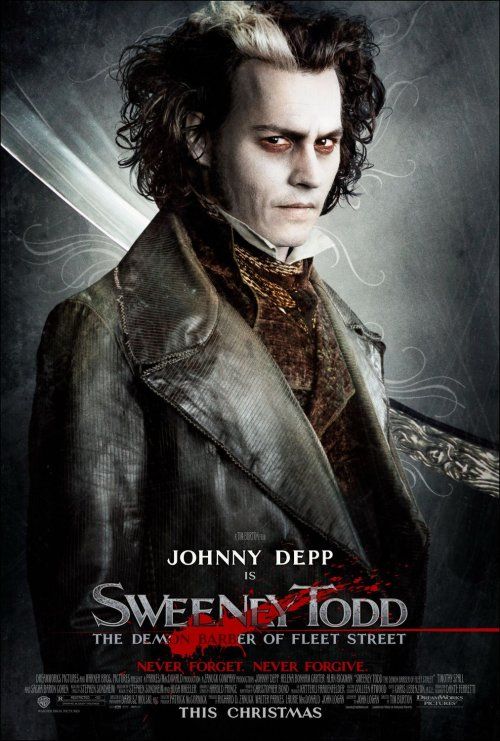 Tim Burton's ~vision~ + Johnny Depp + HBIC Helena Bonham Carter + Alan Rickman + A MUSICAL=more awesome than I can comprehend.
Did you know he's working on a stop-motion animated
Addams Family
movie? If it turns out anything like
The Corpse Bride
, it will be spectacular. CANNOT WAIT. *But* even more exciting is the fact he's doing a
Dark Shadows
movie with Johnny Depp as non-sparkly vampire Barnabas Collins. *fangirl squee*
Day 29 - A movie from your childhood
Day 30 - Your favorite movie of all time
location:

Cukoo Hut

mood:

hopeful

tunes:

Highway to Nowhere---Drake Bell