Day 01 - The best movie you saw during the last year
Day 02 - The most underrated movie
Day 03 - Favorite love story in a movie
Day 04 - The most surprising plot twist or ending
Day 05 - A movie that makes you really happy
Day 06 - A movie that makes you sad
Day 07 - Favorite made for TV movie
Day 08 - A movie that you've seen countless times
Day 09 - A movie with the best soundtrack
Day 10 - Favorite classic movie
Day 11 - A movie that you hate
Day 12 - A movie that changed your opinion about something
Day 13 - A character who you can relate to the most
Day 14 - A movie that no one would expect you to love
Day 15 - A movie that is a guilty pleasure
Day 16 - Favorite movie based on a book/comic/etc
Day 17 - A movie that disappointed you the most
My favorite actor is Johnny Depp. (Is that a predictable choice? I feel it is, but I don't care, I've loved him since I was a little rugrat & he was on
21 Jump Street
.) I'm only allowed to pick *one* of his movies??? Have you seen all of his movies?!?!? He's brilliant in everything!!!
This is *so* not fair.
Okay, fine. I pick: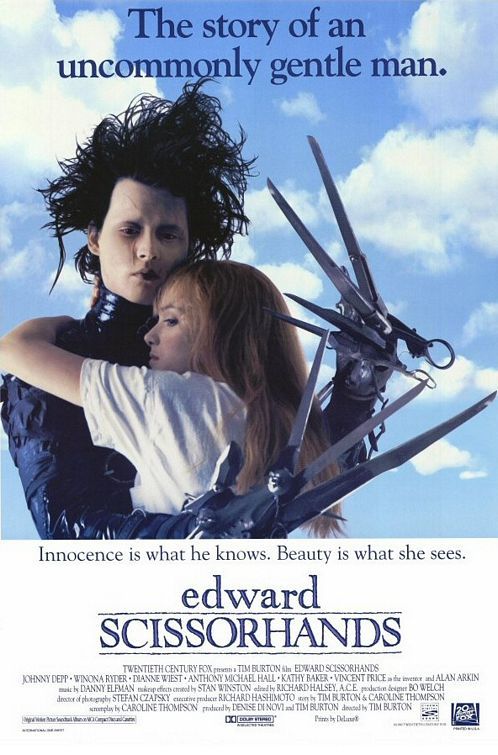 Johnny Depp + Tim Burton=PURE GENIUS
This movie is funny, sweet (but not saccharine), sad, ~touching~, you name it. Right before Christmas, I watched this movie 4 times in one day. I don't know why, exactly, but it's just beautiful.
Speaking of beautiful........
A photograph (by the brilliant Herb Ritts) of Johnny partially in his Edward costume:
...and while we're on a "beautiful theme" here, how about a beautiful scene from the movie?
(I was looking for the scene with the waterbed--it cracks me up everytime--but couldn't find it. But this scene is pure ♥.)
Day 19 - A movie that you used to love but now hate
Day 20 - Favorite action movie
Day 21 - A movie that you wish more people would've seen
Day 22 - Favorite documentary
Day 23 - Favorite animation
Day 24 - That one awesome movie idea that still hasn't been done yet
Day 25 - The most hilarious movie you've ever seen
Day 26 - A movie that you love but everyone else hates
Day 27 - A movie that you wish you had seen in theaters
Day 28 - Favorite movie from your favorite director
Day 29 - A movie from your childhood
location:

Cukoo Hut

mood:

tired

tunes:

Fallen For You---Drake Bell