Day 01 - The best movie you saw during the last year
Day 02 - The most underrated movie
Day 03 - Favorite love story in a movie
Day 04 - The most surprising plot twist or ending
Day 05 - A movie that makes you really happy
Day 06 - A movie that makes you sad
Day 07 - Favorite made for TV movie
This was a tough one. Not because I don't have a "go-to" movie, but because I have dozens of "go-to" movies. Most of the time, I'd rather watch an old favorite than a new movie, so I tend to watch the same flicks dozens & dozens of times. But I decided to go with
The Outsiders
because I was
obsessed
with the book & movie during middle school/junior high.
And I wanted to use my Johnny Cade icon lol.
I read the book 12 times in the 6th grade alone (imagine my euphoria when it was on the 7th grade required reading list). I wore out a VHS copy of the film; now I have the ~super deluxe~ 25th anniversary DVD 2-disc set or some shit.
Look at this flawless cast,
Well, I could do without Tom Cruise. I thought he was overrated when I was 12, still feel the same way.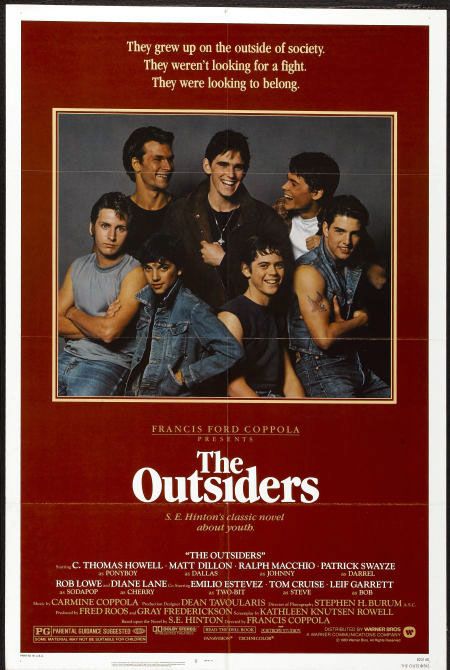 Stay gold, Ponyboy.
Day 09 - A movie with the best soundtrack
Day 10 - Favorite classic movie
Day 11 - A movie that you hate
Day 12 - A movie that changed your opinion about something
Day 13 - A character who you can relate to the most
Day 14 - A movie that no one would expect you to love
Day 15 - A movie that is a guilty pleasure
Day 16 - Favorite movie based on a book/comic/etc
Day 17 - A movie that disappointed you the most
Day 18 - Favorite movie from your favorite actor/actress
Day 19 - A movie that you used to love but now hate
Day 20 - Favorite action movie
Day 21 - A movie that you wish more people would've seen
Day 22 - Favorite documentary
Day 23 - Favorite animation
Day 24 - That one awesome movie idea that still hasn't been done yet
Day 25 - The most hilarious movie you've ever seen
Day 26 - A movie that you love but everyone else hates
Day 27 - A movie that you wish you had seen in theaters
Day 28 - Favorite movie from your favorite director
Day 29 - A movie from your childhood
Day 30 - Your favorite movie of all time
location:

Home

mood:

sleepy

tunes:

iCarly